Samurai Shodown


Japanese
サムライスピリッツ
Samurai Supirittsu
Developer
SNK
Publisher
SNK Corporation
Platform
PlayStation 4
Release date
2019
Genre
Fighting
Modes
TBA
Rating
ESRB: Pending. May contain content inappropriate for children.
Engine
Unreal Engine 4
This article is about a media that has yet to be released. As such, some of the information might be inaccurate, and may change substantially as more information becomes available.
Samurai Shodown (also known as Samurai Shodown VII), (stylized 侍魂 SAMURAI SPIRITS) is the japanese working title for an upcoming fighting game developed and published by SNK Corporation for the PlayStation 4 console (more platforms to be confirmed). It was revealed at Sony's conference during Tokyo Game Show 2018, and is currently scheduled for a 2019 release. Samurai Spirits will be the 8th main 2D title in the Samurai Shodown series and the first brand-new title launch in 11 years since Samurai Shodown Sen in 2008.
The first trailer of this new game reveladed the return to the side-scrolling movement and 2D camera perspective, adding tridimensional graphics for character models and stages, as seen before in The King of Fighters XIV (SNK, 2016) and Street Fighter IV (Capcom, 2008). Now common within fighting games, the camera will have movement freedom to take cinematic close-ups during certain moments, like Finishers or battle intros. The game features paint-brushed art style influenced by Japanese hand-draw.
Players will engage in 1-on-1, weapon-based combats, using attacks with varying degrees of power. As usual, characters will have their own set of unique special movements, and will be able to perform his signature, powerful super special moves to deal massive damage. As seen in the debut trailer, the classic blood-eruption finishers at the end of the match returns with a new cinematic take where background turns red and characters are grey-scaled. The tactical Evasion moves will be present to dodge and perform counter-attacks. Locking Swords system also makes a return to this new game.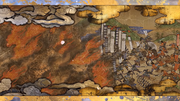 Chronologically this game will be set 1 year after the events of
Samurai Shodown V
(1786) and some months before the original
Samurai Shodown
game (1788).
As seen in the debut trailer.
It is 1787, the 7th year of the Tenmei era. A newly appointed counsel to the Shogun, Matsudaira Sadanobu, has been chosen to usher in a new age of reform with the Kansei era. However, the land remains beset by fire, ruin, and famine, all while a sinister cloud darkens the air with a foreboding sense of dread.
Characters
Edit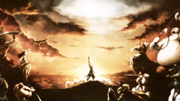 The debut trailer only shows characters found in the original 1993
Samurai Shodown
game. Each of the characters retains its classic look, while adding a lot of new details thanks to the graphic engine used for this title.
Returning Characters at the moment:
Debut trailer also shows a rapid illustration with the follow classic characters: Tam Tam, Genjuro Kibagami, Hanzo Hattori, Kyoshiro Senryo, Charlotte Christine Colde, and one more unidentified character.
Development
Edit
As part of the announcements and releases during SNK Corporation's 40th anniversary, the company started a countdown for the reveal of a new game in September 3, 2018. Such countdown finished with the debut trailer in September 10 during Tokyo Game Show 2018. Using art style influenced by Japanese hand-draw, the game is powered by Epic's Unreal Engine 4.